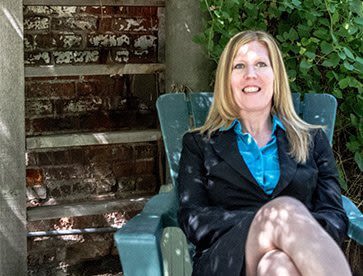 Sherry was raised on a farm in Huron County, Ohio by two wonderful parents, who instilled in Sherry morals, work ethics and due diligence, which has been an asset in her practice of law. Sherry has a younger brother, sister-in-law and two nephews. She has a beautiful teenage daughter who never ceases to amaze Sherry with her accomplishments. Her daughter is an honor student, a cheerleader and dances competitively.
Sherry was born with a club foot, which required multiple surgeries during her youth. At the age of nine, she was involved in a medical malpractice case when her podiatrist incorrectly applied a cast on her leg, which caused an infection. During the pendency of the lawsuit and observing the legal process, Sherry came to the realization that she wished to pursue a career in law in order to help others the way she was cared for by her attorney. The judge and attorneys involved in her case attempted to persuade her to pursue another career path, but she was persistent and diligently worked towards her goal to become an attorney to assist others in need.
You won't always hurt this much. I am here to assist you and your children get through this rough time and your life will be good again.
Sherry earned her Bachelor of Arts in Political Science, cum laude, from The University of Toledo in 1994. She earned her Juris Doctorate from The University of Toledo, College of Law in 1998. After being admitted into the State of Ohio Bar, Sherry served as a Staff Attorney for Cuyahoga County Court of Common Pleas, Division of Domestic Relations for 11 ½ years. During her tenure as a Staff Attorney, Sherry assisted judges and magistrates with various complex legal issues and was a member of various committees, including the Legal Forms Committee and the Local Rules Committee. Sherry is trained in collaborative law and mediation. She contributes to the legal treatise of Sowald & Morganstern's Domestic Relations Law and the Domestic Relations Journal of Ohio by Thomson Reuters, both premier legal resources.
After leaving the county domestic relations court, Sherry joined the law firm of Slive & Slive Co., L.P.A. in 2012, where she remained for four years. In early 2016, Sherry began her own practice, The Naegele Law Firm, LLC. Her firm encompasses all areas of family law, including divorce, dissolutions, domestic violence, property distribution, child support, spousal support, parental rights (custody and visitation), and juvenile court matters.
Sherry has resided in Cuyahoga County for approximately twenty years. She enjoys participating in local town functions, attending country music concerts and watching horror and suspense movies. Sherry enjoys spending time with her family in the outdoors, including hiking, exploring state and national parks in Ohio, Pennsylvania and West Virginia, and gardening.
BAR ADMISSION:
EDUCATION:
J.D., The University of Toledo, College of Law (1998)

B.A., The University of Toledo (1994)

Major: Political Science

Honors: Cum Laude
PROFESSIONAL ASSOCIATIONS AND MEMBERSHIPS:
Ohio State Bar Association

Cleveland Metropolitan Bar Association, Family Law Section (Member)

Cleveland Metropolitan Bar Association (Member)